FAQs

What is Happy Dog Breakfast (HDB)?

HDB in the morning and raw meat at night balances the gut biome.
The fibre and nutrients in HDB produce healthy gut flora, and when the gut biome is balanced everything else works:
immunity increases

energy increases

focus increases

weight regulates (thanks fibre!)
inflammation reduces

anxiety reduces

stiff and aching joints are relieved

 

skin and coat issues are resolved—coats are shinier

breath doesn't smell and poos are so much better
Why are the good grains so important?

Best question! Good grains with lots of fibre (like our barley, oats & chia) nourish and repair the gut.
A dog's gut thrives on enzymes from natural raw proteins + fibre and nutrients that can only be obtained from good grains.

When the gut is healthy, everything else falls into place. Nutrients are absorbed, pro-biotic function is increased, vitality, focus and life-joy increase or return.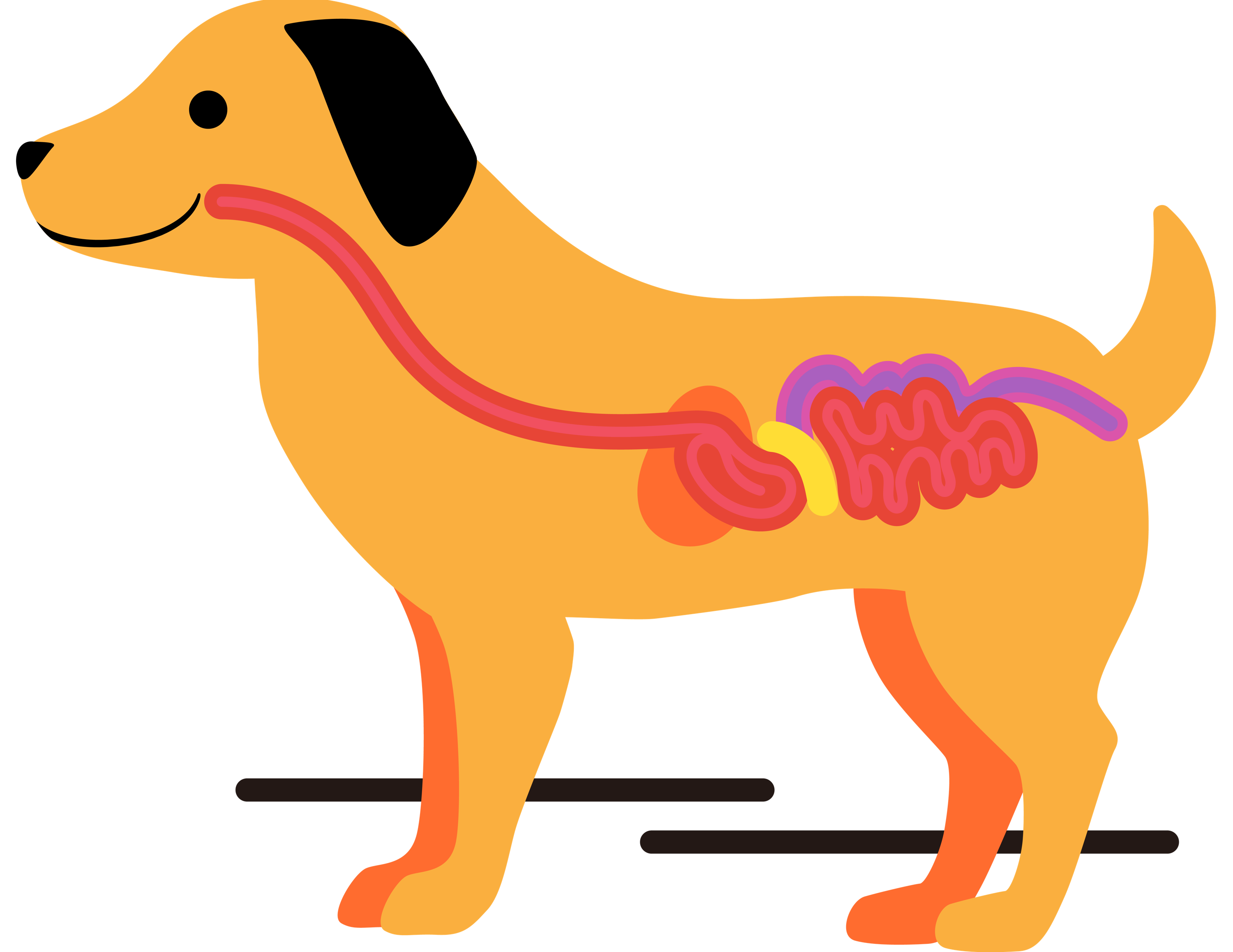 Why not kibble and other processed foods? 
Most kibble and/or processed foods are high-heat extruded and contain wheat, sugar, corn, fillers, soy, legumes, preservatives, chemicals, artificial colours & flavours to mention just the obvious.
Those nasties are absorbed through the gut and contaminate the blood that feeds the joints, brain, nerves, skin, coat, etc. The blood permeates all the points that should make them vital and healthy, but instead makes them gradually sore and sick. Goodness is drained, and the immune system eventually succumbs to the many diseases that vets see so often in today's doggy world.
Is HDB good for all dogs—puppies to seniors?
Absolutely yes! It's a gentle food that's wonderful for growing up, growing old, and everything in between.
Is HDB a sole source of nutrition for my dog?

HDB's natural plant-rich ingredients should make up about 25%—30% of your dog's daily food, and the balance should come from pure animal protein sources and fresh bones.
Neither a full HDB diet or a full meat diet are species-appropriate on their own, but together they're nutritional magic!
Why is the HDB / raw animal protein combination so good?

Long story short – when good grains* are fed, separately and synergistically with fresh raw animal protein, the gut biome flourishes and the blood is able to do its rejuvenating, replenishing work. Anti-inflammatory grains (because grains ain't grains) with raw meat lead to vitality, happier playtimes, more restful sleep, more focused attention, increased calm and sharper mental ability.

Cost-wise it's great. Works out at about $1.50 per ½ cup (medium sized dog) breakfast.
By value, it's priceless.

Just add water! Feeding your dog healthy food doesn't come any easier.
Ideally HDB should soak overnight to activate the goodness, but 5—10 minutes works too. And sometimes if you're running short of time, it can be served within moments of moistening.
As a rule of thumb, use equal parts dry food and water.
You can even mix enough for 3 days and store in the frig. Either way, breakfast sorted!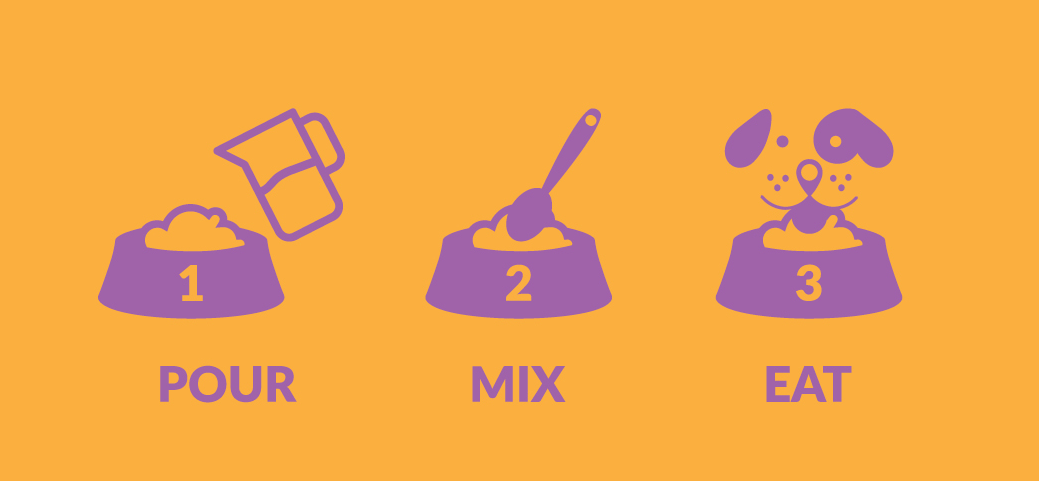 Can I feed HDB in the evening instead of breakfast?

We suggest morning because the gut is empty and receptive at that time. But it's a great evening meal too; the slow-release ingredients satisfy and sustain a lovely night's sleep. (Just make sure your dog still gets a meal of raw protein every day.)
How much should I feed my dog?
We feed Dolly, who is a rather large Labrador (37kg, 9 y/o with a typical Lab appetite J) a little more than ½ a cup per day plus about 200grams of fresh raw protein, and she stays slim with a nicely defined 'waist'.
But some small dogs have big appetites and will want disproportionately large servings. It's a judgement call and may take a little time to observe their weight and how they metabolise the food.
What if my dog doesn't like it?

Keep going, it's super important to your dog's gut! Most dogs think it's insanely delicious right up, but sometimes they'll be wary of the new taste and texture. Transitioning suggestions are on the packet but you know your own dog, so just adapt and let them take all the time they need. Basically, we recommend adding a bit of something healthy that your dog loves to the mix for a few days—it works a treat. You'll look back and be so glad you did.
Can I add other foods? My dog loves variety.

Don't we all! Our dogs love it when we add little extras. They lap up the sweetness of steamed veggies (broccoli, peas & carrots for them), sardines canned in spring water, a dob of unsweetened yogurt, or a protein topper.
The great thing is, they won't be overdosing on added artificial vitamins or anti-nutrients.
Where is HDB made and how should I store it?

HDB is blended in small batches in a facility that also manufactures cereals for humans. It is shelf-stable for 12 months after packaging, but best kept in a cool dry place and resealed after opening.
What if I forget to buy meat for the evening meal?

Sometimes, you just don't have fresh meat on hand for the evening meal. For those times there are some excellent air-dried, slow-dehydrated or freeze-dried pure meat products (no glycation from high-temp cooking) that you could keep in the pantry. Email us if you'd like recommendations.
No way we're sending orders without a little something extra for your dog! And a delicious small treat for you too, because ... 💛

If you place your order before midday Brisbane time (AEDT) on a weekday, it will start its journey by midday the next day (excluding public holidays). Regular and express parcels are sent as 'Authority to Leave' so no signature is required.
Bespoke goods will take a little longer, so we'll let you know the timing before we accept your order.
Australian orders are generally delivered within 2-7 business days, you can check the Australia Post calculator here (we deliver from Brisbane postcode 4520).
International orders will depend on the destination and customs processing, but our nearest neighbour New Zealand deliveries are typically 3 to 4 business days.
You can click here for full tracking details (just pop in the ID that Australia Post emails to you when your order is first despatched).
We take great care in producing quality goods, but say you make a mistake in sizing, or are not completely satisfied with your order, please let us know within 30 days from the date of purchase—our email is care@wherethedogsare.com.au—and we'll do our best to make it right.
If a return is needed, our address is PO Box 536, Samford, QLD 4520. Unfortunately, if a refund is issued, we are not able to refund original shipping charges.
You can read our full (legal-ish) refunds and returns policy here.
Just letting you know, we can't send food outside Australia at this stage. Grrrrr but what can you do.

MORE QUESTIONS? WE'LL COME RUNNING!
catch up with us at a market 
text or call (Kim) on 0412 024 637

whatever suits you works for us!